Seventeen migrants die in Mediterranean - Italian navy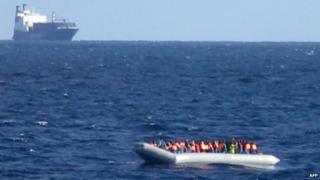 Seventeen migrants have died while attempting to cross the Mediterranean in a small inflatable boat, according to the Italian navy.
The navy said it had recovered 16 bodies aboard the boat, and one person died after being rescued. More than 70 survivors were also found.
Most of the deaths were reportedly caused by hypothermia or dehydration.
Last month, an Italian mission to rescue migrants was replaced by scaled-back EU coastal patrols.
The deaths reported on Friday are believed to be the first since the Italian-run Mare Nostrum operation began to be phased out in favour of the Triton programme, a multinational effort run by the EU's Frontex border agency.
Mare Nostrum policed waters close to the shores of Libya, where most of the migrant boats set off.
Triton has a much smaller budget and restricts patrols to the EU's coastal waters.
Italy has had to deal with a massive surge in migrants - many of them from the Middle East and the Horn of Africa - setting off on boats from Libya with hopes of reaching Europe.
About 150,000 migrants have been rescued by Italian ships over the past year.
The Italian navy has said it would continue to operate search-and-rescue missions for migrants, in parallel with Triton.
'New approach' needed
Italian Foreign Minister Paolo Gentiloni said the latest boat carrying the dead migrants was intercepted some 150 miles (240 km) off the Italian island of Lampedusa - or some 40 miles (65 km) from the Libyan capital, Tripoli.
According to the Italian navy, more than 200 migrants had been rescued in other operations since Thursday.
Mare Nostrum was launched after hundreds of migrants drowned off Lampedusa. It was always intended to be a temporary mission.
Some critics - including UK officials - had argued that the operation was encouraging migrants to set off on un-seaworthy boats.
A UN expert responsible for the human rights of migrants said on Friday that the surge of migrants across the Mediterranean had resulted in a global humanitarian crisis which deserved a global humanitarian response.
"This requires a new and concerted strategic approach by European States and international community," UN Special Rapporteur Francois Crepeau said.
He praised the Mare Nostrum programme and urged other nations to support Italy's rescue operations and help resettle refugees.
Global human rights group Amnesty International said the latest deaths emphasised the need for the EU to improve its efforts to protect refugees and migrants.
"The down-sizing of Italy's search and rescue operation without an effective EU-wide replacement is putting the lives of hundreds of thousands at risk," John Dalhuisen, director for Europe and Central Asia at Amnesty International, said.