EU reaches deal on 2015 budget and overdue bills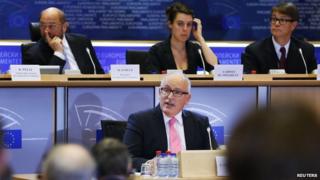 Negotiators from the European Parliament and EU governments have reached a deal on the EU's 2015 budget and amendments to the 2014 budget.
Spending in 2015 has been set at €141.2bn (£111.2bn; $173.5bn) amid pressure to scale it back.
National budgets have been cut across Europe to reduce huge deficits.
A €3.5bn top-up payment was agreed for 2014 to help clear EU bills, bringing the final figure to €139bn.
The UK's total contribution to the current budget is €15.29bn (11% of the total).
The deal is expected to be signed off next week.
MEPs have asked the European Commission to find a way for the EU to pay off other outstanding bills, amounting to more than €25bn. They include some funding for laboratories, student grants and apprenticeships, French MEP Jean Arthuis said.
Farm subsidies and support for the EU's least developed regions are the biggest spending areas in the 28-nation bloc.
A separate source of friction in the EU budget negotiations is an extra €2.1bn that the UK has been asked to contribute, because of the way new accounting rules affected the calculation of national contributions. The UK government has refused to pay.
Reflecting concern about excessive spending, leaders agreed last year to cut the long-term EU budget, for 2014-2020, by about 3%.
Investment hopes
The 2015 budget includes €8bn to launch a €315bn investment plan announced by Commission president Jean-Claude Juncker. Most of that €315bn will be in the form of loan guarantees or private investment.
An EU Task Force on Investment has identified 2,000 potential projects worth a massive €1.3tn, including improvements to Europe's infrastructure in areas such as transport, green energy, schools and flood defences.
The Commission says more than €500bn worth of projects could be launched over the next three years, and some could be funded by Mr Juncker's scheme. The investment proposals were set out in a report on Tuesday, compiled by experts from the Commission, European Investment Bank (EIB) and national bodies.
Infrastructure investment across Europe is seen as a way to create much-needed jobs, boost investor confidence and avoid economic stagnation, especially in the ailing eurozone.
Commission Vice-President Jyrki Katainen said: "There has been a severe disconnect between the available investment and credible projects on the ground.
"We are now taking a big step to restore investor confidence and connect the two."
The report will be discussed by EU leaders at a Brussels summit on 18-19 December.