Australian thief takes own 'mugshot' on stolen camera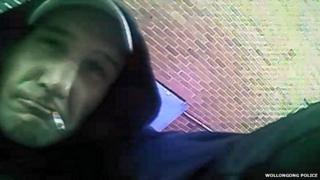 Police in Australia have said they are looking for a thief who provided a close-up image of himself while stealing a CCTV camera.
The photo was posted on Facebook on Monday by police in Wollongong, south of Sydney.
The time-stamped image shows a man removing a camera from the wall of a photography studio early on Sunday.
A short statement accompanying the photo said that two CCTV cameras had been taken.
No one could accuse this particular thief of being a criminal mastermind but he is gaining notoriety, the BBC's Jon Donnison reports from Sydney.
The photo of the middle-aged man standing on a wheelie bin looking straight into the lens as he steals the CCTV camera is now going viral on social media, our correspondent says.
One local resident suggested the man might as well have worn a name tag and a local paper quipped that the criminal had taken a genuine "mugshot", Jon Donnison adds.