Belgium police hold three men in Ghent flat drama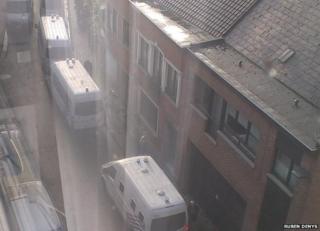 Three men have been detained after police responded to reports that four men had burst into a flat in the Belgian city of Ghent.
Armed police moved in hours after the siege began in the Dampoort area early on Monday.
Authorities said the incident was not linked to terrorism. Local media said it may have involved drugs.
No weapons were found and police did not confirm that a hostage had been taken during the incident.
Reporters at the scene said that three people had given themselves up without violence and had been led away with their hands held aloft.
It is not yet known whether they are suspects.
Local prosecutors said there was no indication of any link to terrorism or jihadist group Islamic State.
"This isn't the same sort of incident as the events in Sydney," spokeswoman Annemie Serlippens said.
One neighbour told the BBC that "100% this was drugs related".
Initial reports that a hostage had been taken were not confirmed by authorities or residents, BBC correspondent Damian Grammaticas reports from Ghent.
The head of Ghent police Filip Rasschaert told De Standaard website that they were carrying out the operation carefully because of the potential involvement of a hostage.
Federal authorities had taken control of the incident, he said.
"They have all they need to bring a successful end to a hostage-taking," he said.
Ghent resident Ruben Denys, who was within the police cordon, told the BBC: "There are police officers around the building, at the back and on people's terraces. A truck has arrived with ladders. They have guns."
Belgian TV said that another siege had taken place in Ghent in October, involving a man implicated in an earlier hostage-taking. That incident involved an unpaid debt, it reported.