Greece president vote inconclusive after first round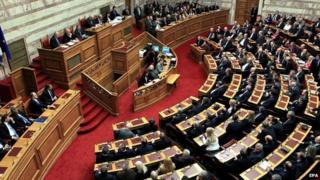 The Greek parliament has failed to elect a new president in the first of three rounds of voting.
The government's candidate got 160 votes - 40 short of an outright win.
If Stavros Dimas fails to get elected after two more voting rounds over the next fortnight, there will be an early general election.
Correspondents say that the radical left-wing opposition coalition Syriza is favourite to win in event of a general election.
A second presidential vote - in which the winner will also require 200 votes for a victory - will now be held on 23 December.
A third vote is scheduled for 29 December. For that election, a total of 180 parliamentary votes would be enough to secure a win.
Greece's two-party coalition has 155 seats and needs support from opposition or independent lawmakers to ensure a win for Mr Dimas.
"There are another two rounds ahead of us," Prime Minister Antonis Samaras said while leaving parliament after the vote.
"I hold hope that a [new] president will be elected.
"The conditions are difficult for the country, and I am certain that lawmakers are aware that the country must not enter troubled times."
Anger over tough austerity measures - demanded by international creditors - has fuelled many protests in Greece.
Mr Samaras has warned that the country could risk a disastrous exit from the eurozone if MPs failed to elect a president.
BBC Europe correspondent Chris Morris says that Wednesday's result suggests that it will be very hard for the government to secure enough votes.
If the 29 December vote produces no definitive winner, parliament will be dissolved and the prime minister must hold snap national elections in early 2015.
Syriza is considered a favourite to win in event of such a vote. The party has promised to ditch the austerity measures and get a portion of Greece's international debt written off if it is elected.
The parliamentary vote is being keenly watched by leaders in Europe as several countries become increasingly frustrated with austerity and Brussels-led policies.
Many Greeks have complained of great hardship resulting from public sector job cuts and savings in welfare budgets.