Doctors' dilemma over request to switch off life-support in pregnancy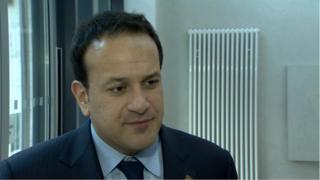 Irish health authorities are reportedly seeking legal advice on whether they can switch off the life-support machine of a pregnant woman who is brain dead.
It is understood that the woman, who is 16 weeks pregnant, suffered a brain trauma because of a blood clot.
Her parents asked for her life-support machine to be switched off, but doctors are reportedly unwilling to do so.
They want clarification on whether doing so might break the Republic of Ireland's abortion laws.
They are seeking legal advice on an amendment to the Irish constitution, passed in the 1980s, that gives equal rights of life to a mother and to the unborn.
The woman is in her late 20s.
While the hospital will not comment - there appears to be a concern that the amendment means the woman ought to be kept alive because of the pregnancy.
Details of her case emerged fewer than 24 hours after Irish Health Minister Leo Varadkar, who is a medical doctor, said he believed the constitutional amendment was too restrictive.
He said it had a "chilling effect" on doctors.