Spain's king attacks corruption in Christmas Eve speech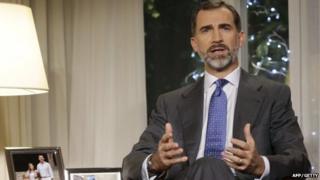 Spain's new King Felipe VI has attacked corruption across the country in his first Christmas Eve message.
The king refrained however from directly referring to his sister, who is due to stand trial for tax fraud.
Princess Cristina and her husband Inaki Urdangarin are accused of embezzling millions of euros in public funds.
The investigation into Princess Cristina - which began in 2010 - is one of the reasons why her father, Juan Carlos, abdicated in June.
King Felipe said during his speech that public figures did not deserve "to profit or become rich'' because of their office.
"There must not be favoured treatment for those occupying a position of public responsibility," he added.
'Irregular conduct'
Spain has seen a number of corruption cases brought against various politicians including Rodrigo Rato, the former head of the International Monetary Fund.
King Felipe said he hoped such cases would reassure people that those accused of "irregular conduct" were being held to account.
King Felipe also addressed Spain's economy during his speech, calling the country's unemployment rate of 24% "unacceptable".
He also reached out to those in Catalonia, a region in Spain that has been demanding independence.
The king told Catalonians they were an integral part of Spain, adding that "millions of Spaniards have Catalonia in their hearts".