Lucinda Creighton announces plan for new Irish political party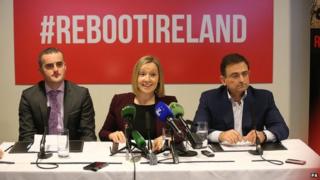 The former Irish government minister Lucinda Creighton has announced plans to launch a new political party.
Ms Creighton was expelled from the Fine Gael parliamentary party in July 2013, after she voted against the government as it introduced abortion law reforms.
At a press conference in Dublin on Friday, she said more than 100 people were working on plans for a new party that she hoped would "reboot Ireland".
She was joined by TV presenter Eddie Hobbs and councillor John Leahy.
'Political movement'
They said they hoped to launch the as yet unnamed party in the spring and would be hosting public meetings to recruit new members.
Mr Hobbs is a financial adviser who rose to prominence in the Republic of Ireland more than a decade ago as an outspoken critic of many of the excesses and vested interests of the Celtic Tiger economy.
He warned against buying into the inflated Irish property price bubble in the years before the housing market crash.
He is best known for presenting Rip-Off Republic and Show Me The Money, televised by the Irish state broadcaster RTÉ.
John Leahy is an independent councillor with Offaly County Council who contested his first local election in 2009.
Ms Creighton told the press conference she was trying to create a new political movement rather than another traditional political party.
'Economic vision'
"We want to reboot Ireland and we want those who are as passionate about this country as we are to join us on this mission," she said.
She said the Republic of Ireland needed a new economic vision that supported the indigenous economy.
Mr Hobbs said the traditional parties were "being deserted in droves by people searching for a new way ahead".
After she lost her European affairs ministerial post over the abortion issue in 2013, Ms Creighton helped to set up the Reform Alliance.
The group included five former Fine Gael TDs (members of parliament) and two former Fine Gael senators who were all expelled from the party over abortion reform.