Irish hospitals: Record number of patients waiting for beds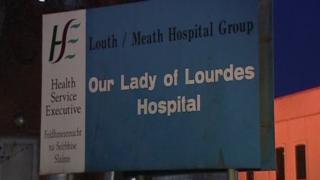 The number of patients waiting for a hospital bed in the Republic of Ireland has hit a new record, nurses have claimed.
The Irish Nurses and Midwives Organisation said 563 were waiting on trolleys, or in wards, for a bed in hospitals across the state on Monday.
INMO general secretary Liam Doran said the "unforgivable" situation was due to cutbacks and public bed closures.
The Health Service Executive (HSE) said it "cannot validate" the INMO figures but apologised for A&E waiting times.
The HSE, which runs all public health services in the Republic of Ireland, also acknowledged that the number of patients on trolleys "is higher than the same time last year".
It said hospitals were taking steps to deal with the "surge in demand".
The INMO has warned that nurses would strike unless more staff and beds were made available.
Mr Doran told the Irish state broadcaster, RTÉ: "We have had ten years of counting trolleys, today is the worst ever figure - who says in management that's progress, that's abject failure by them and they have got to pull their socks up and solve this problem now."
He said he expected INMO to ballot for industrial action within weeks.
"Until beds are reopened, until units are properly staffed, extra wards are brought on stream, then our members will continue to put patients first and if that means they have to highlight it by banning administrative duties and so on they will".
The INMO said the hospital with the highest waiting list was Our Lady of Lourdes Hospital, Drogheda, County Louth, where 43 patients were waiting on trolleys and seven additional patients were waiting in wards to be allocated a ward bed.
In a statement, the HSE said: "As part of the plans in place to deal with the surge in demand in emergency departments (EDs) at this time of year, all hospitals have invoked escalation plans which includes opening additional overflow areas, curtailing non-emergency surgery, providing additional diagnostics and strengthening discharge planning.
"Hospitals are currently taking these steps, as required, so that patients who need to be admitted to hospital are admitted to a bed as soon as possible."
It added: "The HSE apologises to patients and their families for any distress caused by the delays experienced in EDs.
"The HSE would encourage patients to contact their GPs in the first instance where they can be directed appropriately to services such as rapid access clinics, day hospital services for older people and acute medical assessment units, as appropriate."