Putin critic Alexei Navalny cuts electronic tag in protest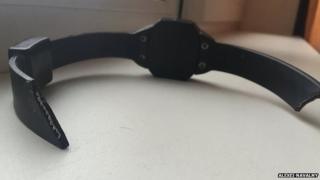 Russian opposition leader Alexei Navalny has cut off his electronic tag in a protest against his house arrest.
He posted a picture of his severed tag on his blog, saying he rejected his "illegal detention" and that his sentencing for embezzlement had been illegally brought forward.
Navalny was given a suspended sentence for defrauding two firms in December.
He says the legal cases against him are motivated by his opposition to President Vladimir Putin.
Navalny has been under house arrest since February 2014.
In a statement on his blog he said: "I have no plans to travel anywhere, all I need in terms of movements is to be able to travel from home to the office and back, and spend my free time with my family."
He wrote that he was "the only person in the history of the Russian judiciary" to remain under house arrest after being sentenced.
Navalny also said it had taken "quite an effort" to remove the tag using kitchen scissors.
He added that "Article 107 [of the penal code] says clearly that such a restrictive measure [house arrest] only applies to people who are suspects or have been charged."
Navalny was given a suspended prison sentence of three-and a-half years on 30 December 2014. The verdict was brought forward by a month after his supporters announced their plan for a big protest rally in January.
Alexei Navalny has already protested over the court's sentencing of his brother Oleg.
His younger brother was given a custodial sentence for three-and-half-years at the same trial.
Navalny is the most high-profile opposition figure in Russia and came second in Moscow's mayoral election last year, with 27% of the vote.