Athy, County Kildare : Memorial service in Carlow for four women killed in crash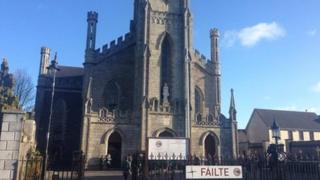 A memorial service has taken place at Carlow Cathedral for four young women who died in a road crash in County Kildare on Tuesday.
The women were killed and another injured when their car collided with a van on the N78 at Burtown, near Athy.
Their funerals will take place on Friday and Saturday.
The memorial service was private, involving almost 1,000 pupils and staff from the school all of the women attended, St Leo's College in Carlow.
Those who died were Aisling Middleton of Athy, County Kildare, Gemma Nolan and Niamh Doyle of Carlow town, all 19, and Chermaine Carroll, 20, from Carlow.
The 20-year-old driver of the car remains in a serious condition at Tallaght Hospital in Dublin.
The two men travelling in the van were also treated for injuries. They managed to escape from the van before it caught fire.
An investigation is under way to determine the cause of the crash.