Kevin Vickers: Canadian 'hero' named new ambassador to Ireland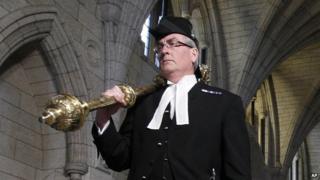 A guard hailed as a hero after shooting dead a gunman who stormed the Canadian parliament has been named as the country's ambassador to Ireland.
Kevin Vickers, 58, confronted Michael Zehaf-Bibeau in the building on 22 October 2014, near to where parties were holding meetings.
The attacker had earlier killed Cpl Nathan Cirillo.
Mr Vickers' appointment was confirmed by Irish foreign affairs minister Charlie Flanagan.
"His appointment is testament to Mr Vickers' long years of service to the people of Canada, most recently as sergeant-at-arms at Canada's House of Commons," said Mr Flanagan.
"No-one can forget that in October 2014, he was commended by all Canadian political parties for his central role arising from the attack on the parliament and the main war memorial in Ottawa."
Mr Vickers has a strong Irish-Canadian background.
His family have been involved in Irish affairs in New Brunswick for many years.
The day after the attack on the parliament building, Mr Vickers was greeted by parliamentarians with a standing ovation as he took up his post again in the Canadian House of Commons.