Dublin Airport: Flight disruption continues due to wind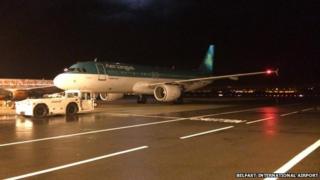 Six flights bound for Dublin Airport have been cancelled due to high winds overnight but the vast majority of flights are operating normally.
All flights in and out of Dublin were suspended for a time on Thursday night due to the winds and some planes were diverted to Belfast and Shannon.
Four planes bound for Dublin were sent to Belfast International Airport.
The passengers, travelling from Paris, Frankfurt, Madrid and London, were taken to Dublin by coach overnight.
In a statement on Friday morning, Dublin Airport said the majority of its flight schedule was now operating normally.
However, it advised passengers to check with their airline for the latest updates regarding their particular flight before coming to Dublin Airport.