Galway: Six escape injury in Tirellan Heights blaze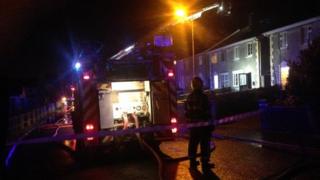 Six people have escaped injury in an overnight fire in Galway.
Two houses were badly damaged in the blaze at Tirellan Heights in the city.
The fire broke out at about 05:45 local time and six people escaped from the two houses.
Nearby homes were also evacuated as fire fighters worked to extinguish the flames. There were no reports of injuries. The cause of the fire is under investigation.