Charlie Hebdo attacks: Frenchman linked to killer in court in Bulgaria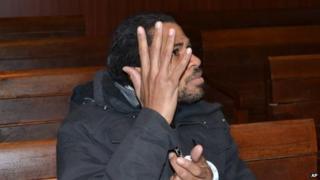 A Frenchman accused of having links with one of the Charlie Hebdo killers has appeared in a Bulgarian court after he was arrested attempting to cross the border into Turkey.
Fritz-Joly Joachin is alleged to have been part of a Parisian Islamist group, which plotted acts of terror.
The 29-year-old also stands accused of abducting his three-year-old son.
Mr Joachin denied any links to terrorism, his lawyer told Reuters news agency.
The lawyer added that during an extradition hearing in the town of Haskovo on Tuesday, his client had told a judge: "I have friends but if they have committed crimes I cannot be held responsible for that."
But a Bulgarian prosecutor said Mr Joachin had been in contact several times with Cherif Kouachi, one of the two brothers who attacked the Charlie Hebdo offices and killed 12 people.
Mr Joachin was apprehended at a Bulgarian border checkpoint on 1 January under two European arrest warrants.
One warrant was connected to the abduction allegations while the second referred to his alleged terrorist connections.
Bulgarian police arrested him after his wife told the French authorities he planned to take their child to Syria and raise him under radical Islam, reported Reuters.
Cherif and Said Kouachi were part of an Islamist network based in the 19th arrondissement of Paris, according to French police.