UK and Ireland sign defence deal at Dublin Castle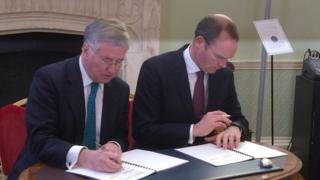 The Republic of Ireland and the UK have agreed a deal which will involve Irish soldiers training British military personnel in peace-keeping.
Defence Secretary Michael Fallon and his Irish counterpart, Simon Coveney, signed a memorandum of understanding at Dublin Castle.
It means Irish and British forces will work together on certain military training, exercises and reforms.
There will be enhanced collaboration on international security matters.
Soldiers from the both armies have been serving together in the same unit for the United Nations in Mali.
Mr Fallon, whose father was from Limerick, said there was already a certain amount of training and exchange.
But he said people would see the impact of the deal in places like "Africa or the Middle-East where peace-keeping missions are required or under the United Nations umbrella where you're more likely to see the British and Irish troops working together in the same units or under a single command."
He said there was "already an excellent example of this with the Irish helping our effort in Sierra Leone in the fight against Ebola."
There are six Irish doctors and medics serving with the British in Sierra Leone.
Mr Coveney said the deal would provide opportunities for more collaborative work in support of international peace and security.
"It will also enhance the potential for further joint contributions to UN peacekeeping operations," he said.