Ukraine violence: Media sharply divided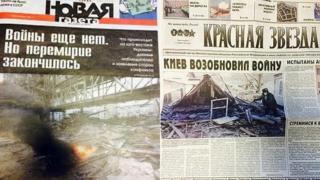 Media on both sides of the bitter conflict in Ukraine have stepped up their rhetoric as fighting intensifies in the east. Some Ukrainian commentators are worried about a "worst-case scenario", while Russian media is showing more graphic images of violence than ever.
Both sides appear to agree that Donetsk airport, an important symbol in the conflict, has been utterly destroyed.
'Horrible week'
It has been a "horrible week" in eastern Ukraine, Komsomolskaya Pravda v Ukraine says. "Hostilities have not been this intense even in the 'hot' summer of 2014", it says in an article enumerating the many casualties and flats destroyed in Donetsk.
Ukraine's popular One Plus One TV is calling fighting in the east a "Russian invasion". In a bulletin headlined: "An undisguised enemy offensive", the presenter says that 2,000 Russian troops have crossed the border.
A writer in the Ukrainian weekly website Novoye Vremya says the "Ukrainian army should prepare for retreat".
Ivan Yakovina says Ukrainian servicemen need to be prepared for the worst-case scenario. He says: "It is certainly absolutely bitter and unpleasant to surrender your land but the encirclement and defeat of army units is significantly more dangerous from the strategic point of view. Fierce resistance - yes, but keeping the positions at any price - no way!"
Another popular Ukrainian TV channel Inter, which normally strikes a patriotic tone, is accusing Ukrainian authorities of "leaving people in the east in the lurch". The channel says that separatists are not only shelling Ukrainian military positions, but houses as well.
'Airport lost'
Ukrainian media are preoccupied with the probable loss of Donetsk airport, which they consider to be a symbol of the Ukrainian fighting spirit.
Donetsk airport has been "completely destroyed, [and] the last survivors have left", Ukraine's political weekly Zerkalo Nedeli reports.
One Plus One TV concludes that the airport is lost, with "not a single soldier left". An anonymous Ukrainian soldier tells the channel by phone that separatist militants are killing wounded Ukrainian soldiers in the ruins of the airport.
Pundit Dmytro Dzhanhirov on Forbes.ua website notes that "For Kiev, the airport is an important… heroic symbol of undefeatable 'cyborgs' resisting 'hordes of terrorists and mercenaries'."
But Russian writer Artur Avakov says in Moskovskiy Komsomolets that the legendary Ukrainian defenders of the airport "now look like cannon fodder, not cyborgs."
Graphic images
On Russian TV, the coverage is becoming increasingly graphic. In addition to the usual distressing images of ruins and wreckage, all three main channels - state-controlled Channel One, official state channel Rossiya 1 and Gazprom-Media's NTV - are showing gory pictures of dead bodies and body parts reportedly filmed in different locations in eastern Ukraine.
The channels contrast what is portrayed as the brutality of the Ukrainian forces with what is presented as a more humane approach by the militia. Rossiya 1 and Channel One report that militia doctors treat captured Ukrainian prisoners in the same way as they would their own fighters.
Russian TV is also accusing the Ukrainian forces of shelling residential areas. A Rossiya 1 correspondent in Donetsk says that after failing to make any gains at the frontline, the Ukrainian military are "showering Donetsk with shells".
"Not a day goes by without casualties: new victims of Ukrainian law-enforcers," an NTV presenter says, describing the latest shelling of a bus stop in Donetsk.
Another Russian daily, Nezavisimaya Gazeta, says the escalation has put Ukraine "on standby". Aleksey Fenenko writes that Ukraine's future is starting to look similar to the fate of Georgia, "in limbo".
"It declares its intention to integrate with the West, but technically cannot do so. In this situation the agenda of all international meetings will be reduced to monitoring the situation in Donbass. The political process appears to be blocked."
BBC Monitoring reports and analyses news from TV, radio, web and print media around the world. You can follow BBC Monitoring on Twitter and Facebook.