'Fight segregation', French PM Manuel Valls says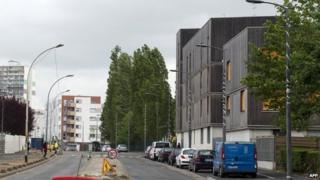 French Prime Minister Manuel Valls says France must no longer tolerate "ghettoisation", with suburban schools where all the children are from poor, ethnic minority families.
Social alienation was seen as a factor in this month's attacks by jihadist gunmen, who killed 17 people in Paris.
Mr Valls proposed "a population policy, to fight against ghettoisation, segregation". He criticised "apartheid" in France - a word suggesting racism.
He urged France to "recognise reality".
Mr Valls has promised hundreds of extra police intelligence agents and new equipment to help tackle terrorism.
Three French gunmen from ethnic minority backgrounds carried out the terror attacks on 7-9 January, targeting Charlie Hebdo magazine, police and a Jewish supermarket.
France's deprived banlieues (suburbs), blighted by high unemployment, have long been seen as breeding grounds for political and religious extremists.
"As a republican I cannot stand seeing this closing-off, this banishment... nor the fact that in some schools you only find children from poor families, often one-parent families, only from immigrant backgrounds, from the same culture and same religion," Mr Valls complained.
Officially France is against the development of ethnic enclaves, as it seeks to promote assimilation, not multiculturalism.
In 2005 a wave of rioting engulfed many French suburbs, originating in Clichy-sous-Bois, on the eastern outskirts of Paris.