Jewish Museum killings: Police seek man linked to gunman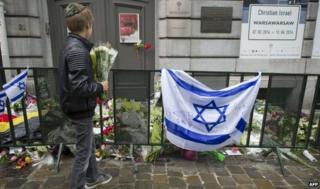 Belgian authorities are looking for a possible accomplice of Mehdi Nemmouche, the gunman charged with killing four people at a Jewish museum in May.
Police want to question a bald-headed man seen together with the suspect four days after the shooting in Brussels.
Last week, authorities released a video of the man, but did not initially link him to Mr Nemmouche or the shooting.
Belgium is on high alert after it foiled a plot by Islamist militants to attack police officers last week.
The video of the bald man was released the day after anti-terror raids in the eastern Belgian town of Verviers, during which two suspects died in a firefight.
In the clip, the man is seen walking next to a blurred out individual, said to be Mr Nemmouche, at a railway station in Brussels four days after the 24 May attack.
Police initially said the release of the video was "within the framework of acts considered murder" but confirmed the link to Mr Nemmouche on Friday.
They are yet to identify the man in the clip but have appealed for witnesses to help do so.
Mr Nemmouche was arrested in Marseille during a routine customs check a few days after the shootings.
Police said he was carrying a Kalashnikov rifle and a handgun matching those used in the attack.
He was extradited to Brussels on 29 July and remains in custody.
Prior to the attack, Mr Nemmouche spent a year in Syria fighting with Islamists there.
The security threat posed by returning fighters was highlighted again last week when Belgian authorities foiled the plot to attack police officers.
Since then, Belgium has raised its terror threat level to three - its second highest level - and has deployed soldiers to guard potential targets.