Det Garda Adrian Donohoe: 'Significant progress' in murder case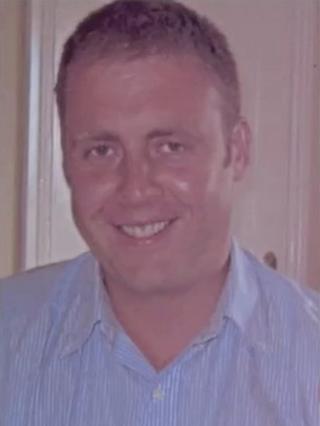 The head of the Irish police force has said very significant progress has been made in the investigation into an officer's murder exactly two years ago.
Detective Garda Adrian Donohoe was shot in a robbery at Lordship Credit Union, County Louth, on 25 January 2013.
The gang that carried out the shooting were believed to have fled immediately across the border to Northern Ireland.
Garda Commissioner Nóirín O'Sullivan said her officers had full co-operation from the PSNI and other forces.
No arrests
However, she told Irish broadcaster RTÉ that the murder inquiry was complex and detectives needed to get things 100% right before those responsible could be brought to justice.
Ms O'Sullivan was speaking as she attended a memorial church service in Dundalk to mark the second anniversary of the officer's death.
Det Garda Donohoe, who was married with two children, was the first member of the force to be shot dead on duty for more than a decade.
He was given a state funeral at St Joseph's Redemptorist Church, Dundalk, attended by thousands of his fellow officers and political leaders from both sides of the border.
His anniversary Mass took place in the same church at 11.00 local time on Sunday.
To date, no-one has been arrested or charged over his murder.
Ms O'Sullivan renewed the appeal for information, saying there were people in the community who have significant information that could help the investigation.
She called on witnesses to have the courage to come forward.
No warning
The 41-year-old victim was one of two detectives on late night escort duty at the rural credit union when the robbery took place.
Irish police said he was shot without warning and did not produce his weapon before he was killed.
The gang stole 4,000 euros (£3,000) in cash before escaping from the scene.
The suspected getaway car was found burnt out in Fews Forest near Keady, County Armagh, two days later.
The Police Service of Northern Ireland (PSNI) subsequently carried out a number of searches in south Armagh in connection with the murder.
On Sunday morning, Det Garda Donohoe's widow and two children were joined by his colleagues and friends at the anniversary Mass.
On Friday night, supporters and friends held a candlelit vigil outside Lordship Credit Union, before walking to the local Gaelic Athletic Association (GAA) club, where the officer had coached youth teams.