Lee McDonnell: Dublin prisoner who escaped is recaptured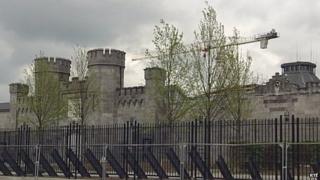 A prisoner in the Republic of Ireland who escaped while being escorted by prison service staff from a hospital appointment has been recaptured.
Lee McDonnell, 23, escaped on 17 December and is now back in Portlaoise Prison.
He was seen at Rowlagh Avenue in Ronanstown, west Dublin, shortly before 17:00 local time on Saturday.
Police recaptured him after a chase.
McDonnell, who is originally from Lough Conn Road, Ballyfermot, has more than 70 previous convictions.