Dáil walkout: Protest as legal action stops penalty points debate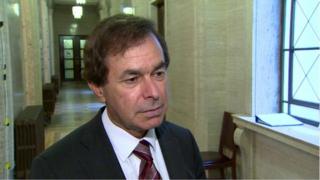 Sinn Féin and Fianna Fáil members have walked out of the Irish parliament in protest over the cancellation of a debate on alleged police misconduct.
Members (TDS) were due to debate the findings of the Guerin report into the removal of penalty points from driving licenses of some well-connected people.
The protest came after it was confirmed that ex-justice minister Alan Shatter's legal team had objected to the debate.
His lawyers argued it would compromise legal action against the Guerin report.
The report forced Mr Shatter to resign and the former minister has taken the case in a bid to quash some of its findings about his handling of the case of a police whistleblower.
A two-day debate in the Irish parliament (Dáil Éireann) had been scheduled for this week but it has now been cancelled, because it may compromise Mr Shatter's legal action.
The brief walkout was staged after Prime Minister (Taoiseach) Enda Kenny confirmed to parliament that the debate was not going ahead.