Greek fighter jet crash 'due to takeoff fault'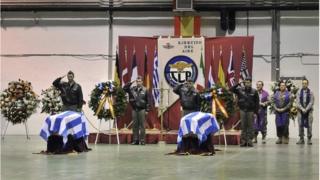 A Greek fighter jet that crashed on Monday at a Nato base in Spain had suffered a technical fault during takeoff, the French military says.
"What we know is that the crew of the F-16, quite quickly after takeoff, tried to eject, which confirms the technical failure," French Air Force chief of staff Gen Denis Mercier said.
Gen Mercier did not specify the nature of the failure of the F-16.
Nine French military personnel and the two Greek pilots died in the crash.
At least five other planes were damaged as the F-16 crashed at Los Llanos air base in Albacete on Monday.
Twenty-one people were injured - 12 Italians and nine French. The bodies of the nine Frenchmen were to be flown home on Thursday. The bodies of the Greek pilots were repatriated earlier.
The Los Llanos air base, which is located some 260km (160 miles) south-east of Madrid, is also said to host personnel from the US, Denmark, Germany, Belgium and the UK.
Aviation analyst Sean Maffett told the BBC News Channel on Monday that it was difficult to imagine how the accident had occurred, because the runway where the aircraft was taking off was about 1,000 ft (305m) away from where the crash apparently took place.
In his news conference on Thursday, Gen Mercier said: "It's an absolutely improbable accident involving a plane which suffered a technical fault at takeoff, veered so much off course and came to crash at the spot where there were jets about to start taking off, and therefore full of fuel.
"It was a series of unfortunate incidents," he said.
Spanish officials said the jet had been participating in a Nato training exercise as part of the Tactical Leadership Programme (TLP).
The TLP is not part of the Nato structure but is an organisation formed under an agreement between 10 Nato nations whose aim is to increase the effectiveness of allied air forces through the development of leadership skills.