Union warns against Aer Lingus takeover from BA owner IAG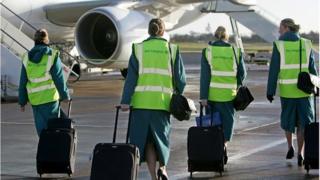 A union that represents 500 Aer Lingus pilots has warned against a takeover of the airline.
The Irish government is currently looking at a revised offer for the airline from British Airways owner IAG.
IAG has put forward a 1.36bn euros (£1bn) takeover offer for Aer Lingus.
Capt Evan Cullen, president of Irish Airline Pilots Association, said the takeover would put money in the pockets of top managers and threaten Ireland's economic future.
The Aer Lingus board has said it is prepared to accept an offer worth 2.55 euros (£1.90) a share from IAG, in its latest takeover bid.
An acquisition would rest on the backing of the government as well as Ryanair, the other major shareholder.
The Irish government has a 25.1% share in Aer Lingus, while Ryanair has a 29.8% stake in the airline.
The Irish Airline Pilots Association has a seven per cent share in the airline.
Mr Cullen told the Oireachtas (parliament) Joint Committee on Transport into the proposed takeover that management had a conflict of interest as they stood to make a windfall from any sale.
He said there was no other reason to sell a growing and profitable airline.
"Aer Lingus does not need IAG, IAG needs Aer Lingus - that is a fact, " he said.
He also said the deal would leave the country's crucial air links to the US and the UK in the hands of a London boardroom.
Mr Cullen said there could be no guarantees on the island nation's air links to the other countries.
"It is an absolute nonsense for anyone to suggest that (the government) can put legally binding constraints on the owner when they get their cheque for the shares - it just doesn't happen," he said.
Mr Cullen said recent acquisitions suggest IAG and other carriers would be forced by aviation regulators to continue existing Irish routes for just three or four years, after which the company could use those slots for money-spinning long-distance routes.
He said the only benefit to Aer Lingus of a takeover would be better prices in buying new aircraft, but a strategic agreement with Etihad Airways on combined orders has already taken care of that.
Matt Staunton, of trade union Impact, which represents pilots, cabin crew and ground staff at Aer Lingus, said the acquisition would result in up to 1,200 jobs slashed in Ireland, while posing significant risks to the country's business and tourism.
He said the government, as guardian of the state, was duty bound to keep a stake in the carrier.
IAG's primary interest in the Irish carrier is its 23 pairs of take-off and landing slots at Heathrow airport - valued at about £30m apiece - allowing it to operate more flights.
Previous bids
Aer Lingus directly employs 3,900 people, mostly in Dublin, with 2,100 of these described as ground staff in areas such as clerical, operative and back office roles.
A takeover may also face competition concerns from European regulators. If IAG, which owns Spanish carrier Iberia, was forced to sell some Heathrow landing slots owned by Aer Lingus it could undermine the rationale for the deal.
Aer Lingus is the fourth-largest operator at Heathrow after BA, Lufthansa and Virgin Atlantic.
IAG's offer is worth 2.55 euros a share. Aer Lingus had rejected two previous IAG offers - pitched at 2.30 euros and 2.40 euros a share.
Ryanair built its stake in Aer Lingus as part of three failed attempts to buy the carrier. Competition regulators blocked the takeover bids and told Ryanair it must sell all but 5% of its shareholding. However, an immediate sale was delayed by a lengthy appeals process.