France economy: 'Death threats' over legal reform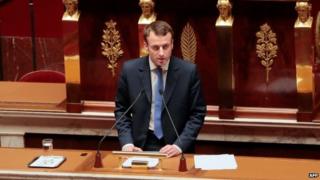 France's economy minister has told the the French parliament that he received death threats over his attempts to reform the legal profession.
Emmanuel Macron said he had been targeted by legal officials over his plans to raise entry barriers for solicitors in France.
Mr Macron says he wants to "unblock" France's struggling economy.
But he has faced protests from workers and professionals who say their jobs are threatened.
The economy minister, who was appointed in August last year, is in the process of trying to push an economic reform bill through parliament.
Part of the bill contains measures to liberalise the legal profession.
But on Monday, he told MPs that "certain public officials" had made death threats in response to the legislation, AFP news agency reports.
The reforms also include proposals to extend Sunday shopping in a bid to stimulate the economy - a suggestion which has drawn with protests.
The French government has said it will miss targets to cut its public deficit in 2015.
Ministers are under pressure from Brussels to reform the economy.