Italy Mafia: New president Mattarella vows crime fight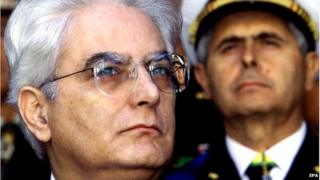 Italy's new President, Sergio Mattarella, has promised to fight corruption and organised crime in his first speech since being sworn in on Tuesday morning.
The former judge told parliament the two issues were "absolute priorities".
Mr Mattarella, whose own brother was killed by the Mafia, described organised crime as a "pervasive cancer" that trampled on people's rights.
He also promised to tackle the economic crisis and work for electoral reform.
Mr Mattarella assumed office at a ceremony at the Quirinale Palace in Rome, the official presidential residency, in front of the prime minister, his cabinet and the opposition.
He succeeds Giorgio Napolitano, 89, who stood down from the presidency earlier this month citing "signs of fatigue".
Italy's presidency is largely a ceremonial role but it includes the power to appoint a prime minister, a power frequently invoked in Italy, where politics is famously volatile.
Mr Napolitano named five prime ministers during his eight-and-a-half-years in office.
---
Analysis: James Reynolds, BBC News, Rome
Sergio Mattarella comes from a prominent Sicilian family which bears the scars of a painful fight against organised crime.
In 1980, the Mafia shot and killed Mr Mattarella's elder brother Piersanti, then the island's governor. Sergio Mattarella entered politics three years later, as a member of parliament for the now-defunct Christian Democrat party.
He later became a minister in several governments and once stood down in opposition to plans to make it easier for Silvio Berlusconi's media empire to expand.
Most recently. Mr Mattarella has been a justice of Italy's constitutional court. But he continues to be most well-known here as a politician and ally of the Prime Minister Matteo Renzi. Sergio Mattarella's election to the presidency is widely seen as a significant political victory for the prime minister.
---
Mr Mattarella was elected after three inconclusive rounds of voting, in which no candidate secured the two-thirds majority needed to win.
He is the first Italian president to be elected from Sicily, a southern region that is home to one of the country's most notorious Mafia groups, the Cosa Nostra.
However, since the Cosa Nostra's heyday in the 1980s and 1990s, other groups have come to the fore, including the 'Ndrangheta and Camorra, with organised crime spreading into northern areas of the country.