French comic Dieudonne condemns Paris terror attacks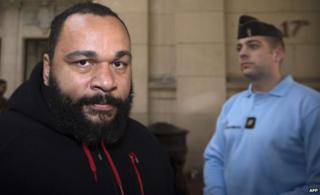 French comic Dieudonne M'bala M'bala has told a court that he condemns the Paris attacks in which 17 people were killed "without any ambiguity".
He is standing trial on charges of "condoning terrorism", after a Facebook comment he made appeared to back gunman Amedy Coulibaly.
Prosecutors want the comedian to pay a fine of €30,000 (£22,500; $34,000) or face imprisonment.
He already has several convictions for inciting anti-Semitism.
Following a massive march in Paris to condemn the attacks, Dieudonne wrote on social media "I feel like Charlie Coulibaly," [French: je me sens Charlie Coulibaly].
The statement combined the "Je Suis Charlie" slogan adopted worldwide after the Paris attacks with the name of one of the three gunmen involved in the attacks.
Coulibaly killed a policewoman near a Jewish school on 8 January before going on to hold up a kosher supermarket the following day, when he murdered four Jewish hostages.
On 7 January, two other gunmen killed 12 people at magazine Charlie Hebdo, a satirical magazine that has frequently launched withering attacks on religion, including depictions of the Prophet Muhammad.
But Dieudonne told the court his comments were not intended to express sympathy for the gunmen or condone their actions.
"Of course I condemn the attacks without any restraint and without any ambiguity," he said.
Prosecutor Annabelle Philippe said Dieudonne had presented Coulibaly's actions in "a favourable light".
"He knows exactly how to play with words, it's his job," the AFP news agency quoted her as saying. "He weighs up every word, he knows that he will be borderline."
'Double standards'
Dieudonne's Facebook comment drew an angry response from many in France. Prime Minister Manuel Valls said that freedom of speech should not be confused with anti-Semitism, racism and Holocaust denial.
After Interior Minister Bernard Cazeneuve said he had asked the authorities to investigate Dieudonne's remarks, the comedian posted a response on his Facebook page, arguing that he was being treated as a public enemy when all he wanted to do was make people laugh.
Dieudonne's detention drew claims of double standards over free speech from some quarters in France.
The comedian is also facing an inquiry into whether he condoned terrorism in a video in which he mocked the decapitation of US journalist James Foley by Islamic State militants.
Dieudonne was acquitted last year over comments made in a video in which he called for the release of a man who tortured and murdered Ilan Halimi, a Jewish man, in Paris in 2006.
He has attracted controversy over his trademark "quenelle" gesture. It has been called an inverted Nazi salute, but the comic argues it was intended to be anti-establishment.