Jewish groups criticise German panel on anti-Semitism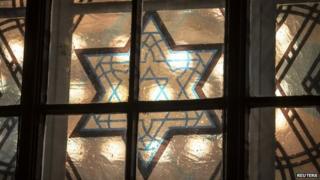 Jewish groups have strongly criticised the German government for creating a commission to tackle anti-Semitism that does not include a single Jew.
A spokesman for the Moses Mendelssohn Centre for European-Jewish Studies in Germany said it was a "scandal".
The centre announced on Tuesday that it was creating a rival panel of experts.
Germany's interior ministry set up the independent commission to fight anti-Semitism and support Jewish life.
A spokeswoman for the ministry told The Associated Press news agency that the question of religious affiliation was not part of the panel's selection process.
Anetta Kahane from the Amadeu Antonio Foundation criticised the decision. "Nobody would even think of creating a conference on hatred of Islam without Muslims or a round table on the discrimination of women without women," she said.
The Moses Mendelssohn Centre announced that it, along with two other leading Jewish groups, would be creating an alternative commission.
Spokesman Julius Schoeps said that they would include both Jewish and non-Jewish experts on the panel.
The group of eight experts appointed by Germany's interior ministry are due to submit a report to parliament within two years that will be the basis for a discussion on how to tackle anti-Semitism.