Willie Walsh: IAG to guarantee Aer Lingus slots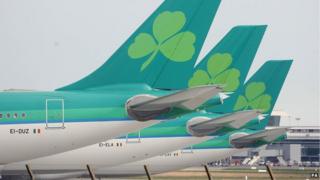 The chief executive of International Consolidated Airlines Group (IAG), the company trying to buy Aer Lingus, has appeared before an Irish parliamentary committee.
Willie Walsh said IAG would give a "concrete guarantee" that Heathrow flight slots would remain in Aer Lingus's ownership.
He also guaranteed that the Aer Lingus brand would be maintained.
Mr Walsh said while some jobs would be lost, more would be created.
"I have heard people say that up to 1,200 jobs could be lost - that's utter nonsense," he told the politicians.
"Will there be rationalisation? Yes there will be," he added. "But the real story is about growth."
Mr Walsh said while there would be redundancies, about 500 jobs could be created in Aer Lingus - new pilots, cabin crew, engineers and mechanics - if the takeover was agreed and long-haul planes were added to the fleet over the next five years.
Mr Walsh said the jobs would be good quality and would be in Ireland.
He raised the prospect of developing Dublin Airport as a transatlantic transport hub and taking advantage of US immigration pre-clearance, Aer Lingus's presence in North America, particularly the east coast, and connections with American Airlines.
"Ireland is an attractive market for us," Mr Walsh said.
"We believe it represents a growth opportunity. We think the development of transatlantic services over the Dublin hub represents a real growth opportunity and we can support that better than anyone else."
IAG's primary interest in the Irish carrier is its 23 pairs of take-off and landing slots at Heathrow airport, valued at about £30m each, allowing it to operate more flights.
IAG is proposing to offer 2.55 euros (£1.90) per share, a total of 1.36bn £1.01bn, for Aer Lingus, and has been in talks with the Irish government about the state's 25.1% holding in the airline.
Aer Lingus is the fourth-largest operator at Heathrow after BA, Lufthansa and Virgin Atlantic.
Aer Lingus had rejected two bids from IAG last year.