Minsk ceasefire welcomed by regional media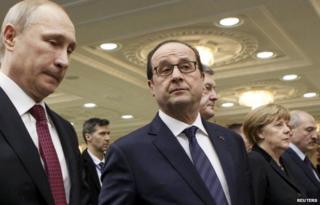 While Russian media are cautiously optimistic about the Ukraine peace deal, the mood in Ukrainian social media seems to be one of confusion and scepticism.
The deal has been a top story on major Russian TV channels. Pro-Kremlin Rossiya 24 said last night was "not the best night" in President Vladimir Putin's life. But its morning bulletins declared it a "good morning for Vladimir Putin."
"It has certainly been a long night for the delegations," English-language Russia Today said over a photograph of a yawning Petro Poroshenko.
Several channels, among them Rossiya 24 and LifeNews, quoted pro-Russian separatist leaders as saying that there would be no more talks, if the new ceasefire was breached.
Pro-separatist Donetsk News Agency quoted separatist leader Aleksandr Zakharchenko as saying there would be no more talks if Kiev violated the new Minsk deal.
"Serious obstacles"
Luhansk separatist leader Igor Plotnitskiy welcomed ceasefire deal.
"We cannot but believe and respect the opinion of three most important presidents today - of Russia, Germany and France. And if they guarantee that the envisaged changes will secure that Ukraine will be transforming due to Donbass' efforts, we cannot but give Ukraine this chance," the pro-Kremlin LifeNews TV channel showed him as saying.
Russian pundits welcomed the ceasefire, but did not rule out that difficulties could emerge in the future.
Political analyst Gleb Pavlovskiy told Interfax news agency that the ceasefire was "no doubt a success", but "serious obstacles" could emerge in the future.
Another political analyst told RIA Novosti that the deal was "Russia's interim victory", but "it's too early to relax because the implementation of the deal is yet to be guaranteed".
But opposition Russian activist Ilya Yashin called the deal "fragile" on Twitter.
'Just fiction'
Ukrainian MP Serhiy Pashynsky welcomed the deal, but said it "will be pointless unless there is a ceasefire", Ukrainian news agency UNIAN reported.
A similar scepticism characterised the mood in Ukrainian social media.
"I have a strong feeling that the deal was signed with the only goal of accusing each other of violating the agreements," tweeted popular blogger Technoslav Bergamot.
Journalist Nastya Stanko tweeted: "The ceasefire starts on 15 Feb. So three more days of fighting."
"Failure to secure Ukraine's control over border with Russia in the nearest weeks/months means getting a new frozen conflict. At least," journalist Myroslava Petsa wrote on Twitter.
And "as long as separatists control border between Ukraine and Russia, conflict will not stop and every agreement will be just fiction." tweeted activist and blogger Kateryna Kruk.
BBC Monitoring reports and analyses news from TV, radio, web and print media around the world. You can follow BBC Monitoring on Twitter and Facebook.