Italy launches inquiry after baby dies in ambulance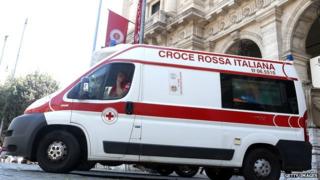 The Italian health minister has launched an inquiry after a newborn baby reportedly died on Thursday because of a lack of space in hospitals.
The baby was allegedly turned away from three hospitals in Catania, Sicily.
Nicole Di Pietro died in an ambulance while travelling to a hospital in the neighbouring city of Ragusa, a journey of over 100km (60 miles).
Her mother, Tania, said that "human error" caused the death.
According to reports the baby was born with breathing difficulties at a private clinic, and medical staff called emergency rooms in three separate hospitals in an attempt to get her admitted.
After being told there was no space, the decision was made to drive to Ragusa. During the journey the baby's condition worsened and she died in the ambulance.
Both regional and national investigations have been launched. The local health ministry reportedly met bosses from all three hospitals on Friday morning.
Meanwhile, the national health minister, Beatrice Lorenzin, has dispatched her own investigators to the hospitals.
Posting on Facebook, Tania Di Pietre said that "soon justice will be made and my daughter will have peace".