Dublin buskers ordered to 'turn it down'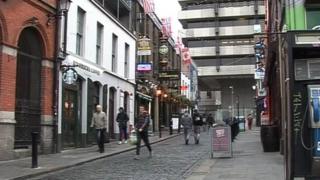 Visitors to Dublin wandering through Temple Bar and Grafton Street may notice something different.
The buskers have been told to tone it down, to lower the volume. They are a feature of Dublin City life.
It is free street entertainment - unless you want to pay - adding to the gaiety of the city. But there can be bum notes.
After complaints by residents and some businesses the street entertainers now have to apply for annual licenses and lower their amplifier noise to no more than 80 decibels in most of the city.
John Carter, who describes himself as a musician rather than a busker, can just about see where the council is coming from.
"I think people can make too much noise, that's absolutely certain," he said.
"If you're in the same place every day doing the same songs, you feel very sorry for the people having to listen to you all the time.
"But if you don't actually stand out a little bit over the background noise you're not going to make much money. That's just the way it works."
Temple Bar
Residents of Temple Bar have made the most noise about the noise in their neighbourhood.
The busker amp restriction here will be 75 decibels.
But Leo Enright, a former BBC correspondent and now a Temple Bar resident, doubts the city council bye-law will be enforced and he hasn't a very high opinion of the louder buskers either.
"They've never won an Emmy but they've managed to do what Garth Brooks couldn't do. Garth wanted it for six days at Croke Park, these people want to do Garth Brooks every night in Temple Bar twelve months of the year. I just think it's wrong," he said.
"I think we should get rid of traditional busking, get rid of the amplifiers and give the residents of Temple Bar some peace."
The manager of Thomas Patrick, one of Grafton Street's shoe shops also doubts the new by-laws will be enforced.
But John Foran has no problem with the street entertainers, as such, believing that they bring a good atmosphere to the city's fashionable street.
However, John would like to see the musicians and entertainers perform without amps.
"The volume on Grafton Street when I'm coming and going to work is far too loud between people roaring into mobile phones for some reason and buskers going louder and louder," he said.
"It's far too loud and I wouldn't want to be suffering from any hearing impediment."
Fanny Wigmond is a Hungarian street entertainer and puppeteer.
Now living in Galway she said that amps were often needed.
"It's not a good thing to ban the amplifiers because a lot of buskers have quiet voices or instruments," she said.
"You would need a banjo or a strong voice without the amps."
But She need not worry - any attempt to ban amps totally is likely to fall on deaf ears.