Controversial political rhetoric in France raises stakes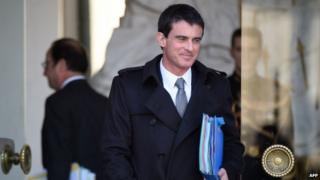 On this occasion, France's prime minister had been on the receiving end of a controversial comment.
Manuel Valls said he would not dignify with a response the suggestion by the country's former Foreign Minister (and fellow Socialist) Roland Dumas that he was "probably under Jewish influence".
Referring to Mr Valls's Jewish wife, Anne Gravoin, Mr Dumas had told a French news channel: "He has personal alliances which make him prejudiced."
Mr Dumas's remarks sat particularly uneasily days after hundreds of Jewish graves had been desecrated in north-east France.
Last month, though, it was Mr Valls who was setting the cat amongst the pigeons - albeit in a rather different way - when he referred to the "geographical, social and ethnic apartheid" in France, shortly after the attacks on the Charlie Hebdo magazine and a kosher supermarket in Paris.
For some, he was simply stating, in stark language, what was obvious to anyone who has spent time in the rundown suburbs, or banlieues, mainly populated by families from North African and other immigrant backgrounds.
For others, he was slandering the state he represents.
By comparing France to a discredited regime based on racial segregation, Mr Valls was, according to one strident critic, committing a "moral error".
That critic is someone to whom Mr Valls is often compared and whom he could face at the next presidential election - the recently re-elected leader of the centre-right UMP party, Nicolas Sarkozy.
A Valls v Sarkozy battle is an intriguing prospect.
Making a name for himself
In the natural course of things, President Francois Hollande would be the Socialist Party's candidate for re-election in 2017.
He's been enjoying a post-Charlie Hebdo boost in the polls, but that's beginning to fade.
It wouldn't be the most surprising turn of events if, come election-time, the Socialists ditched their underwhelming figurehead in favour of his more dynamic, outspoken and popular premier.
That outspokenness was evident when I met Manuel Valls back in 2002.
At the time, he was mayor of the Paris suburb of Evry and already making a name for himself by taking a stand on the segregation of French society.
Two brothers, who had taken over the local franchise of the Franprix supermarket chain, had turned it into a Muslim-friendly shop, choosing to only sell halal meat and not to stock alcohol.
They argued that it was a commercial decision, that they were catering to their clients - but, as he told me, Mayor Valls saw this as a way of cementing divisions in society, or - as he might say now - reinforcing the apartheid that had been allowed to take root.
He took a very French route to solving the problem, calling in hygiene inspectors. There was a court case, which the brothers eventually won on appeal, but they ended up leaving anyway.
Notorious experience
Like Mr Valls, Nicolas Sarkozy began his political career as mayor of a suburb of Paris.
However the rich, chic (and very white) Neuilly-sur-Seine is about as diametrically opposed to gritty, multiracial Evry as you can get.
Mr Sarkozy's most notorious experience of the banlieues was during the riots of 2005 when, as French interior minister (a post that Mr Valls has also held) he promised local people that he would get rid of the youths, whom he described as a "racaille" a word that's been translated as "rabble" or "thugs".
When asked whether he stood by what was considered a strong and controversial term, he said: "Je persiste et signe," I'm sticking to my guns. Mr Valls is likewise standing by his "apartheid" comment.
I was in France at the time of the Charlie Hebdo killings and was struck by the ubiquity of the current prime minister.
Like Nicolas Sarkozy, during his rise to prominence in the early 2000s, he seemed to be everywhere.
Yesterday's "Speedy Sarko" had become today's "Velocity Valls".
It was he, not President Hollande, who called the UMP leader on the day of the shootings to keep him informed about the government's response.
The rumour is that Nicolas Sarkozy demanded to be treated as a "co-president" during the march of solidarity that took place in Paris on the following Sunday. It wasn't to be.
Mr Sarkozy may be back in the front rank of French politics, but he was in the third row that day. The bigger picture doesn't bode well for the ex-president either.
While the story of a face-off between two similar characters is tantalising, it could end up being a sub-plot.
For it is not a dark-haired man who is leading the opinion polls in France, but a blonde-haired woman.
Marine Le Pen may have seen her popularity dip at the time of the Charlie Hebdo killings, but she's back on top of the ratings.
And although her populist Front National party couldn't quite dislodge the socialists in a by-election in Doubs, near the Swiss border, this month, it all but wiped out the centre-right vote.
The French establishment may still regard the Front National as being beyond the pale, but a significant part of the French public doesn't share that view.
Redressing the balance
That's not exactly news to Manuel Valls.
He had first-hand experience of the Front National's electability in 2002, as an adviser to the Socialists' failed presidential candidate, Lionel Jospin.
He took a clear message from Mr Jospin's defeat to Marine Le Pen's father, Jean-Marie Le Pen, in the first round of that election: the French public won't vote for a party that's seen as being weak on security.
Despite his immigrant background (born in Barcelona to Spanish and Swiss-Italian parents), Mr Valls has gained the reputation for being tough on immigration and crime, as part of his efforts to drag the Socialist party (which he has suggested should be renamed) to the centre.
For some on the left, his "apartheid" comment represents a welcome pivot towards addressing the causes of crime, but for others it's an obvious diagnosis that should have been made ages ago and is meaningless without a cure.
For all his criticism of the "apartheid" comment, it was Nicolas Sarkozy who, in many ways, took the first practical steps to redress the racial imbalance in French political life.
As interior minister, he appointed one of France's first Muslim prefects (regional governors), and, as president, his first cabinet was defiantly diverse - a product of what he proudly called "French-style positive discrimination".
The Socialists have picked up that baton, but Manuel Valls's words - and the context in which they were delivered - have upped the ante.
The current focus in France is understandably on the attacks on Jewish graves and the controversial comments of Roland Dumas.
In the longer term, social cohesion will also depend on how the prime minister acts upon his own eye-catching remarks.