Stephen Kavanagh: Aer Lingus backs IAG 500 jobs claim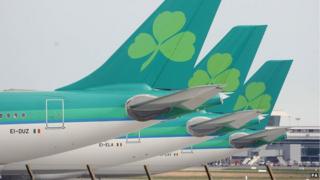 Aer Lingus has backed claims that more than 500 jobs would be created on new routes if a bid for the carrier is accepted.
Stephen Kavanagh, the airline's incoming chief executive, said there would be limited redundancies if the offer goes through.
International Airlines Group (IAG), which owns British Airways, is in negotiations to purchase Aer Lingus.
Its chief executive has claimed the takeover would create about 500 jobs.
Mr Kavanagh, who is due to take over as Aer Lingus chief executive later this month, did not give details about potential job cuts, but said a deal with a new owner would see redeployment and new opportunities for existing staff.
"The opportunity that the IAG proposal brings is accelerated growth, but also sustainable growth," he said.
He also said the prospect of a deal to grow Aer Lingus on global markets with the support of an international airline business like IAG may never come about again.
Mr Kavanagh, who has 26 years' service at the airline, told a parliamentary hearing in Dublin that job creation would be direct airline staff but also in spin-offs including at airports, support services, hotels and other areas.
He also drew comparisons with air services in Dubai which have gone global.
"That investment has recognised the geographic advantage of Dubai," he said.
"I'm not by any means saying that we are going to achieve that level of scale, but that's the ambition that we share."
IAG is proposing to offer 2.55 euros (£1.90) per share, a total of 1.36bn euros (£1.01bn), for Aer Lingus, and has been in talks with the Irish government about the state's 25.1% holding in the airline.
Aer Lingus is the fourth-largest operator at Heathrow after BA, Lufthansa and Virgin Atlantic.
Aer Lingus rejected two bids from IAG last year.