France's bizarre Strauss-Kahn pimping trial had little to do with the law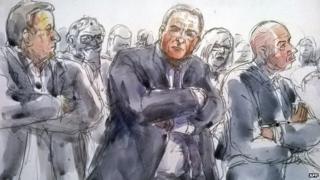 It is a bizarre kind of trial that ends with the prosecutor asking for the defendant to be acquitted. But then the Dominique Strauss-Kahn affair has never been straightforward.
Behind the charges of "aggravated pimping", presented during a case in Lille, lay all sorts of other business: power-play among rival magistrates; a moral campaign by anti-prostitution campaigners; sexual titillation; and the vengeance of a country against the man it nearly chose as president.
What the trial had very little to do with - we can pretty safely say today - is the law.
The whole DSK case grew out of a long-standing investigation into the key defendant in the trial, the Belgian known as Dodo the Pimp.
Police eavesdropping on phone conversations heard Dodo and his associates talk of Mr Strauss-Kahn (it was just after his New York hotel debacle) and realised that they had stumbled on a rich new line of enquiry.
DSK was obviously enjoying sex parties with women provided by his friends. But what could he be charged with? Using prostitutes in France is not an offence.
The two investigating magistrates were determined to bring the former International Monetary Fund (IMF) chief to trial.
In France it is they - the famous juges d'instruction - who conduct an investigation and ultimately decide if it goes to trial.
Line of attack
In theory they are supposed to look at both sides in a case with equal detachment.
But juges d'instruction are regularly accused of seeking to make their names by pursuing sensational cases, or overlooking evidence that exonerates well-known public figures.
In the DSK affair, the juges d'instruction thought the best line of attack was pimping - which unlike prostitution, is an offence in France.
If they could show that Mr Strauss-Kahn knew the women were being paid and that they were being provided for his benefit, then arguably he was party to their prostitution.
In this line of attack the investigating magistrates were supported by anti-prostitution campaigners, who believe that clients of prostitutes are responsible for the harm done to the women.
Deep animus
All this is of course worthy of deep discussion on the moral plane. But the problem was: did it have any traction in a court of French law?
This week - as the trial drew to a close - it was clear that the juges d'instruction had misjudged badly.
The state prosecutor - who clearly has a deep animus against them - launched a fierce attack on the case they presented.
Under their interpretation of the law, he said, anyone who invited a prostitute into a car could be accused of pimping. But that was patently absurd.
The juges d'instruction, he went on, had tried to show that DSK knew the women were prostitutes. But there was absolutely no proof of that. And even if there had been, that in itself did not make him guilty of pimping.
The crux was whether he himself organised any of the orgies. And the answer to that - by everyone's account - was no, he did not.
So at the end of the trial there is a distinct sour taste.
The world's press have had their fun. The details of DSK's encounters with call girls - and his sexual preferences - have been blazoned across the media.
But would any of this have been revealed, would there even have been a trial, had he been a nobody?
If the answer is no - and it probably is - then there are serious questions to be answered about how French justice has treated DSK.