Dominique Strauss-Kahn pimping trial closes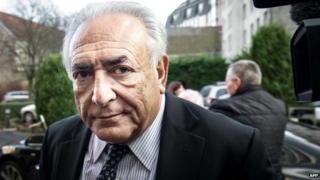 The trial of former IMF chief Dominique Strauss-Kahn has ended in France, with a judge declaring he will deliver his verdict on 12 June.
Mr Strauss-Kahn is facing 10 years in prison if found guilty on charges of aggravated pimping.
He has always denied knowing that women who took part in orgies he attended were in fact prostitutes.
Earlier this week five of the six plaintiffs in the case dropped their accusations against the 65-year-old.
The withdrawal from the case of four prostitutes and an association appeared to show the case against Mr Strauss-Kahn weakening, correspondents say.
Prosecutor Frederic Fevre said on Tuesday that neither the investigation nor the evidence heard in court had established his guilt.
The three-week trial heard details about the sexual habits of Mr Strauss-Khan, who was once favourite to become French president.
He is accused of procuring prostitutes to attend sex parties in Brussels, Paris and Washington.
While he admitted being present at the orgies, he said he did not know some of the women involved were being paid.
Taking the stand for the final time he said: "This is the first time during the trial that I've been able to speak and have the feeling that I am being listened to. Thank you for that."
Mr Strauss-Kahn's lawyer Henri Leclerc told the court as he delivered his closing arguments that the case against his client had "collapsed".