Ukraine says it cannot start heavy weapons withdrawal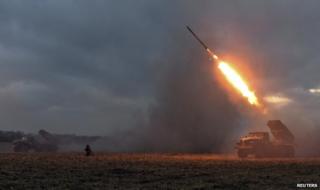 The Ukrainian military has said it cannot start withdrawing heavy weapons from the front line in the east until the rebels stop shelling its positions.
Military spokesman Lt Col Anatoliy Stelmakh told reporters the separatist rebels had not stopped firing.
Both sides agreed at the weekend to begin withdrawing heavy weapons shortly, under this month's ceasefire.
Germany has said it is concerned that there is still no "comprehensive ceasefire" in place.
Government spokesman Steffen Seibert called on Russia to "again urgently bring to bear its influence on the separatists".
British Prime Minister David Cameron described Russia's actions as "illegal" and accused the Kremlin of providing separatist rebels with both "fighters and equipment".
Speaking in the UK parliament he went on to warn that any attempt by the separatists to expand their territory would be met with "further significant EU and US sanctions" against Russia.
The Ukrainian government, Western leaders and Nato say there is clear evidence that Russia is helping the rebels with heavy weapons and soldiers.
Independent experts echo that accusation while Moscow denies it, insisting that any Russians serving with the rebels are "volunteers".
Agreement in danger
Two Ukrainian soldiers died on Sunday, the military said, while the rebels reported one death on their side.
The rebels are not expected to begin their pullback until after a public holiday they are observing on Monday.
Both sides have two weeks under the terms of the Minsk deal to pull artillery and tanks out of striking distance.
Last week, the 12 February ceasefire signed in the Belarusian capital, and brokered by Germany and France, looked in danger of collapsing when the rebels captured the strategically important rail hub of Debaltseve.
In other developments
Ukraine's currency, the hryvna, hit a record low against the US dollar, weakening more than 10% to 30.51 after losing nearly half its value last year
A boy of 15 died of his injuries in hospital in the Ukrainian city of Kharkiv, bringing to three the number of dead as a result of Sunday's explosion at a patriotic rally
Germany has called on Russia to release Ukrainian military pilot Nadia Savchenko, detained since June over the deaths of two Russian journalists, Reuters reports
Former UK Defence Secretary Liam Fox added his voice to international calls to supply arms to Ukraine shortly after fellow Conservative MP and former Foreign Secretary William Hague warned against such a move
---
Ceasefire from 00:01 on 15 February (22:01 GMT 14 February)
Heavy weapons to be withdrawn within two weeks
All prisoners to be released; amnesty for fighters
Withdrawal of all foreign troops and weapons from Ukrainian territory, disarmament of all illegal groups
Lifting of government restrictions on rebel-held areas
Constitutional reform to enable decentralisation for rebel regions by the end of 2015
Ukraine to control border with Russia if conditions met by the end of 2015
---
Exchange of fire
New shelling was reported in the Donetsk region on Sunday after overnight exchanges of fire.
Lt Stelmakh accused the rebels of trying to storm the front-line village of Shyrokyne near the government-held port city of Mariupol.
Rebel spokesman Eduard Basurin confirmed that rebels and government forces had exchanged fire at Shyrokyne.
But he said rival pro-government groups had first fired on each other after a heated exchange by radio, adding that later in the night the rebel positions came under intense fire.
Mariupol is viewed as a key objective for the rebels should they try to push further west against government forces.
The rebels themselves celebrated a Soviet-era public holiday on Monday, Defenders of the Fatherland Day, which is not an official holiday in Ukraine but is in Russia.
A festive rally was held on a square in the city of Donetsk, with patriotic songs and tributes to rebels killed in the fighting.
'Hundred prisoners'
Mr Basurin said rebel forces were still holding more than 100 Ukrainian soldiers after a weekend prisoner exchange.
Most of the remaining prisoners, he told Russia's Interfax news agency, were taken during the rebel offensive against the strategic town of Debaltseve, which ended last week with the retreat of government forces.
Nearly 5,700 people have died and at least 1.25 million have fled their homes since the conflict began early last year.