Irish government 'cannot accept current Aer Lingus offer'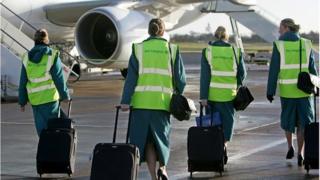 The Irish government has said it cannot accept the current offer for airline Aer Lingus.
The £1bn takeover offer comes from British Airways owner, International Consolidated Airlines Group (IAG).
The deal has been welcomed by Aer Lingus bosses who said it made commercial sense.
However, the government has raised concerns and wants more information and clarity before selling its stake.
Irish minister for transport Paschal Donohoe said the information and commitments provided to date by IAG did not provide a basis on which he could accept the offer.
He said the government needed a longer guarantee period than the five years currently being offered on Aer Lingus's Heathrow slots before he could recommend the IAG bid.
Mr Donohoe said IAG had furnished important new information outlining its vision for the airline but he was still not in a position to recommend accepting the offer.
He wants more clarity on guaranteeing jobs and more information on IAG's transatlantic plans.
The minister noted that Aer Lingus was satisfied with the level of the cash offer from the company.
The takeover needs the approval of both the Irish government, which holds a 25% stake, and rival Ryanair, which has a near 30% stake and had previously tried to take over the business itself.