Greece ex-finance minister in HSBC tax scandal trial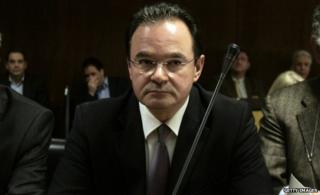 A former Greek finance minister has gone on trial accused of removing relatives' names from a list of HSBC bank account holders in Switzerland.
George Papaconstantinou allegedly tampered with the "Lagarde list", which named Greeks who may not have paid tax on all their income.
"I am innocent, your honour, I deny all the charges," he said before a special court in Athens on Wednesday.
Greece's new government has vowed to crack down on tax evaders.
The authorities were previously accused of failing to pursue perpetrators.
Mr Papaconstantinou faces a potentially heavy prison sentence if he is found guilty of doctoring a document and of attempted breach of faith while he was finance minister in 2010.
He was expelled from the socialist Pasok party in 2012 after prosecutors said that three of his relatives had been deleted from the "Lagarde List".
The list, which contained the names of over 2,000 Greeks, was provided to the Greek government in 2010 by then French Finance Minister Christine Lagarde, who is now head of the IMF.
It is an extract of a list of account holders at a Geneva branch of HSBC leaked by former bank employee Herve Falciani.
Media outlets published details of the full list earlier this month, along with allegations that HSBC had helped wealthy clients across the world evade huge amounts of tax.
The Pasok government took no action after receiving the "Lagarde List" in 2010 and later claimed to have lost it.
The scandal aroused anger among a public hit by deep austerity measures and a lengthy economic crisis.
Greece accepted a bailout in 2010 to avert bankruptcy but its European Union and IMF creditors demanded tough conditions, including tax increases, in exchange for €240bn in loans.
The country's new leftist-led government of Prime Minister Alexis Tsipras has promised to crack down on tax evasion and wants to use the proceeds to help ease the plight of poor Greeks.