US deserter Shepherd suffers blow to Germany asylum bid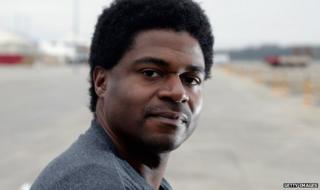 A former US soldier who deserted from his army base over the Iraq war has suffered a setback at the European Court of Justice in his quest for asylum in Germany.
The court ruled that Andre Shepherd could be granted asylum if he could prove the US was likely to commit war crimes during his upcoming tour.
But he would still need to show he had no alternative to desertion.
The decision on his asylum application will now go back to the German courts.
Germany turned down the bid by Mr Shepherd - the first Iraq veteran to apply for refugee status in Europe - in 2011 but a Munich court referred the matter to EU judges.
He says he will pursue the case despite the latest ruling.
'Ripped to shreds'
Mr Shepherd, originally from Cleveland, Ohio, was deployed to Iraq in 2004 and completed a six-month stint as an Apache helicopter engineer before returning with his unit to its base Germany.
In 2007 he refused a second order to return to Iraq where he said he would be involved in war crimes.
"When I read and heard about people being ripped to shreds from machine guns or being blown to bits by the Hellfire missiles I began to feel ashamed about what I was doing," Mr Shepherd, now 37, told a news conference in Frankfurt in 2008.
"I could not in good conscience continue to serve."
Mr Shepherd walked off his base in Bavaria and spent two years in hiding before applying for asylum in a bid to avoid prosecution in the US for desertion.
Germany refused the request on the basis that he would not have directly participated in any war crimes.
However, the ECJ ruled on Thursday that EU law did cover logistical or support personnel who would participate indirectly.
But it said he would have to present evidence showing it was credible that war crimes would have been committed during his service in Iraq.
Mr Shepherd would also have to show that desertion was the only way he could have avoided participating - and that he could not have applied to be a conscientious objector.
The court in Luxembourg also said the prison sentence he was likely to receive in the US did not amount to the persecution that would make him eligible for refugee status.