Paris drones: Al-Jazeera journalist to face court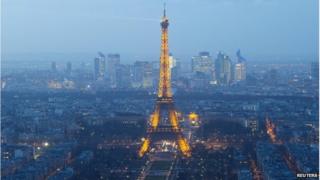 An Al-Jazeera journalist will appear in court next week accused of flying a drone in Paris although the case is not being linked to two nights of mysterious drone flights over the city.
He and two colleagues were arrested in a Paris park on Wednesday but the others will not face charges.
Al-Jazeera said they had been filming a report on the "recent mystery drones".
Flying drones over Paris without a licence is banned by law and no night flights over the city are allowed.
The three journalists working for the Qatar-based satellite TV channel were freed on Thursday.
Their names have not been released but AFP news agency says they are aged 34, 52 et 68 and were detained in the Bois de Boulogne woods at 15:30 (14:30 GMT) on Wednesday.
The youngest, said to work for the channel's Paris bureau, was reportedly piloting the drone at the time while another was filming it and the third reporting on it.
Their arrests came after a series of sightings of unmanned aerial vehicles in the early hours of Tuesday and Wednesday over sites including the Eiffel Tower, the US embassy, the Invalides military museum and two historic gates, now transport hubs, on the fringes of the city.
A spokesman for prosecutors said on Wednesday there was "no relationship for the moment" between the arrests and mysterious drone flights over the city at night.
Security at key sites in Paris was tightened last month after the murders of 17 people by Islamist gunmen and French officials say that was the main reason the drones were spotted.
Drone flights have already raised security concerns in France, with one sighting last month over the Elysee Palace, home of President Francois Hollande.
Who is behind the flights is unclear but there was alarm in the autumn when drones were spotted above at least 13 French nuclear power plants.
French authorities have opened an inquiry into the flights but government spokesman Stephane Le Foll ruled out any security concern.
"People should not be worried but vigilant - it's an issue which is taken very seriously," he told reporters.