Derek Brockwell: Three arrests over prisoner's escape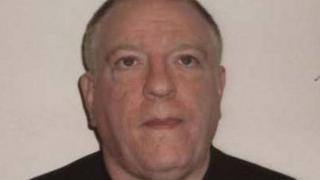 Three people have been arrested in the Republic of Ireland in connection with the escape of a prisoner who fled across the border to Northern Ireland.
Derek Brockwell, who is originally from Glasgow, escaped from custody at Tallaght Hospital in Dublin last month.
He was arrested at a pub in Belfast the following night.
The three people being questioned are an inmate at Portlaoise prison, County Laois, and a couple in their 60s from Ashbourne, County Meath.
Brockwell remains in custody in Northern Ireland, having stabbed himself in the stomach as police officers approached to arrest him outside a pub in Bedford Street on 18 February.
The 53-year-old escapee had been serving a seven-year sentence in Portlaoise prison after being convicted of armed robbery in Dublin in 2013.
He had arrived in Dublin the previous year, after absconding from a prison in Lancashire while he was on day release.
He was serving a life sentence in the Lancashire prison, for a series of armed robberies in London.