Killiney mansion: Family lose court battle against repossession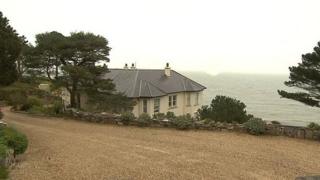 A solicitor's family has lost a court battle to stop a bank from repossessing their mansion in County Dublin.
The property overlooks Dublin Bay from the wealthy suburb of Killiney.
It was owned by the high-profile lawyer and property developer Brian O'Donnell and his wife, who owe 70m euros (£60m) to the Bank of Ireland.
The Irish High Court has rejected a bid by the couple's adult children to secure an injunction against the bank, meaning the repossession can proceed.
The mansion, known as Gorse Hill, was once valued at 30m euros (£22m).
On Monday, it was reported that Mr O'Donnell had effectively barricaded himself into his family home, and that the family had enlisted the support of an anti-repossession campaign group, calling itself the Land League.
The injunction bid by the couple's children was led by their son Blake O'Donnell.
After postponing his decision for 24 hours, the judge has now ruled that Brian O'Donnell and his wife Mary Pat O'Donnell are not entitled to possession of the property and that their children had no right to give them residency.
The couple were not in court and are believed to have remained in the house.
The family had earlier failed in their appeal to the Supreme Court against the repossession.
The bank has now made an application for a trespass injunction against Brian and Mary Pat O'Donnell.