County Clare magician wants penguin post office job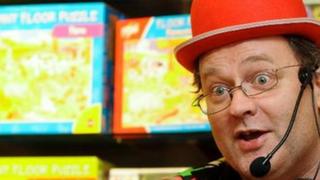 A former journalist turned magician is hoping to land a job in one of the world's most remote post offices on an island surrounded by penguins.
County Clare man Anthony Galvin is one of 1,000 people who have applied to live and work for five months on Goudier Island in the Antarctic.
It will make a change from covering local council meetings.
The UK Antarctic Heritage Trust is offering the job to just four people.
Mr Galvin told BBC Radio Ulster's Evening Extra programme that Antarctica is "the most beautiful environment in the world".
"You're surrounded by snow and mountains and ice," he said.
"You've got the southern lights dancing overhead in the evenings, if you do get any darkness, and you're surrounded by penguins.
"It sounds idyllic."
After years as a journalist, Mr Galvin decided to become a magician in Lapland, where he's been working at Christmas time for the past 18 years.
He said: "I entertain in the snow, which has got me used to the conditions I hope to experience in the Antarctic."
The jobs going include one in maintenance, one delivering post, one in the shop and one manager.
The post person will have to handle 70,000 items of mail during the November to March period, in the Antarctic summer where temperatures are -5C.
All workers will have to monitor penguin numbers in the interests of science.
At present there are 2,000 of the birds around the island.
"What about the other people?" asked Evening Extra presenter Tara Mills.
"What if you don't get on? There's nowhere to hide."
Mr Galvin replied: "I'm going to bring a tux with me, and if we don't get on I'm going to slip among the penguins and the other people won't notice me."