EU to review policy on neighbours after crisis like Ukraine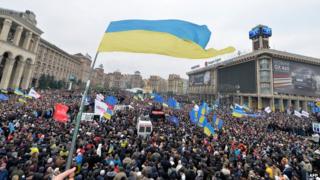 The European Union is to review its policy towards neighbouring nations amid criticism of its handling of the crisis in Ukraine.
The policy was criticised when Ukraine's ex-President Viktor Yanukovych rejected an EU Association deal, sparking widespread protests.
The European Commission has also begun work on a plan for managing migration.
Italy's coast guard said on Wednesday that it had rescued almost 1,000 migrants and refugees in the past day.
But 10 people died after their boat capsized in the southern Mediterranean, north of Libya.
'Increased challenges'
"Recent developments in the region have increased the challenges we all face: from economic pressures to irregular migration and security threats," said EU foreign policy chief Federica Mogherini in a statement launching the ENP review.
"We need a strong policy to be able to tackle these issues. We also need to understand better the different aspirations, values and interests of our partners."
More than 3,000 people are estimated to have died in the Mediterranean Sea last year.
The EU's offer of a co-operation and free trade agreement to Ukraine in 2013 prompted a crisis that toppled Mr Yanukovych and led indirectly to Russia annexing Crimea and war in eastern Ukraine.
Some critics accused EU officials of failing to take account of Russian sensitivities towards EU expansion.
But Ms Mogherini denied any confrontation, telling a news conference: "It is clear that the door of EU co-operation is open to everyone, to Russia."
The European Neighbourhood Policy (ENP) was introduced in 2003 to allow the EU to develop better relations with the countries that surround it, including former Soviet republics and North African and Middle Eastern states.
It was last reviewed in 2011 following the Arab Spring. The European Commission said the new direction of the ENP would be set out in the autumn following the consultation process.
Meanwhile, the Commission held a debate over the EU's new migration policy, which aims to provide more opportunities for legal migration.
Migration Commissioner Dimitris Avramopoulos said the EU planned to appoint immigration attaches in some overseas offices to allow people to apply for asylum in their own countries, Reuters reported.
Southern European countries led by Italy have called for EU action to help them cope with tens of thousands of African and Middle East migrants crossing from war-torn Libya.
According to Italy's interior ministry figures, 7,882 migrants arrived on Italian coasts in the first two months of this year, compared with 5,506 in that period in 2014.