Further bid for Aer Lingus expected, says Joan Burton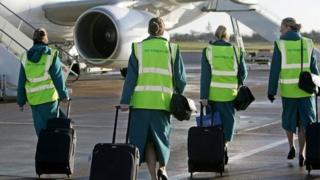 The Irish government expects International Consolidated Airlines Group (IAG) to make a further offer for its 25% stake in Aer Lingus.
Deputy Prime Minister Joan Burton said on Thursday a new bid is likely.
IAG, which owns British Airways, made a 1.36bn euro (£1bn) bid for Aer Lingus in January.
The Irish airline's board recommended the offer to shareholders but the deal has stalled due to political opposition.
"My understanding is that the parties who are in discussion and (from) the group which is advising the (transport) minister, that he is anticipating that there will be further offers forthcoming from IAG," Labour Party leader Ms Burton told Newstalk radio.
On Monday, it emerged the boss of Aer Lingus had written to his staff to reassure them about the airline's future and their terms of employment under a proposed takeover.
Unions have raised concerns about Aer Lingus jobs and working conditions.
But Aer Lingus chief executive Stephen Kavanagh said their firm would benefit from the deal and current employment terms and agreements would continue.