German Mayor Markus Nierth resigns over NPD protest fears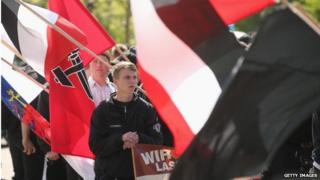 A village mayor in eastern Germany has resigned after threats to march on his house from far-right protesters angry about plans to house asylum seekers.
Markus Nierth, who was honorary mayor of Troeglitz in Saxony-Anhalt, south of Berlin, said he quit because local authorities refused to ban the march.
He said he would not expose his family to "racist and hate-filled chants".
Saxony-Anhalt's Interior Ministry said it opposed "all forms of xenophobia and racism''.
Mr Nierth wrote on Facebook (in German), that he was "stunned and disappointed" at the behaviour of the authorities "not willing or capable to prevent such a demonstration in front of my house".
He added that National Democratic Party (NPD) organisers knew he was a "small mayor without political decision-making powers".
The NPD - which has organised previous protests against the housing of 50 refugees in Troeglitz - called off its planned march on Sunday after Mr Nierth resigned, the Associated Press reported.
The mayor of Troeglitz is elected to the role but not paid and works part-time because of the village's small number of inhabitants.