Italy's Berlusconi 'back in politics' after acquittal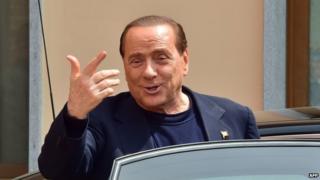 Former Prime Minister Silvio Berlusconi has welcomed his acquittal by Italy's highest court and plans to make a political comeback.
The Court of Cassation rejected appeals to overturn his acquittal on charges of underage sex with a prostitute and abusing his office to cover it up.
Berlusconi, 78, hailed the ruling as a beautiful day for politics, justice and the rule of law.
"I am back in the field with Forza Italia," he said.
The three-time Italian prime minister remains embroiled in several legal battles and is barred from running for election under the Severino law, which bars from office anyone sentenced to more than two years in jail.
But his supporters aim to overturn the 2012 legislation.
---
Can he return? By Julian Miglierini, BBC News, Rome
A master of political comebacks, Silvio Berlusconi believes he is ready to pull off yet another return to the Italian political scene.
For the past few months, he was quietly serving his community service sentence weekly and under court surveillance - but now that is over.
And the most embarrassing of the legal cases against him, which saw him accused of paying for sex with an underage prostitute, has been thrown out, for good.
He is ready and willing, he says, to help his Forza Italia party overcome internal dissent and clarify, once and for all, an ambiguous relationship with Prime Minister Matteo Renzi.
But his legal travails continue. Several cases that involve him are slowly advancing in Italian courts - and Berlusconi is banned from running for elected office.
Perhaps more worryingly for the 78-year-old, the spotlight of Italian politics has moved on to a younger generation led by Mr Renzi, who, in his media-savvy and straight-speaking ways, has often been considered an unintentional political heir to Berlusconi.
---
'Finally, the truth'
Berlusconi was initially given a seven-year jail term in 2013 in what became known as the "bunga bunga" case, before having the verdict overturned on appeal last July.
He and the 17-year-old dancer involved, Karima El-Mahroug, known as "Ruby the Heartstealer", had denied having had sex.
Last week, he completed a community service order with elderly dementia patients as part of a separate conviction for tax fraud.
Supported by Forza Italia colleagues, Berlusconi said on Wednesday that the path was now clear for a return to mainstream politics.
"Finally, the truth," he said, describing the court case as a sad page he was leaving behind.
"I was certain that my reasons would be understood. However, what remains is the regret of an issue that has caused severe damage not only to me but to all Italians."
He remains under investigation for allegedly paying off witnesses in the "bunga bunga" case, and is on trial in Naples for alleged political corruption.