Dublin Airport: Documents show hour-long delays at passport control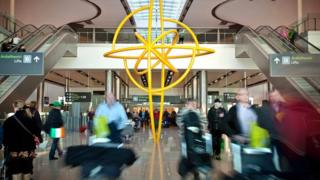 Passengers arriving into Dublin Airport have had to wait for up to an hour to get through immigration, according to documents seen by Irish state broadcaster RTÉ.
The longest queues occurred between June and September 2014.
Passport control is run by the Garda National Immigration Bureau.
However, 80 civilian staff are currently being transferred to passport control roles to deal with the delays.
The queues mainly affected people with non-EU passports, who waited for about an hour to get through immigration in July, August and September 2014.
The international standard for clearing passport control is 45 minutes for people travelling from outside the EU.
A spokesperson for the Irish Department of Justice said it was recognised that on occasion, queues could spike, but said this affected less than 10% of travellers.
The department said most travellers are processed in one to 10 minutes.
Last September, the Justice Minister Frances Fitzgerald announced a programme to use civilian staff for immigration functions undertaken by Irish police, with an additional 80 members of staff.
The minister said the process was expected to be completed by the end of 2015.
There are currently 24 civilian staff on passport control at the airport.