US Secretary of State takes a break from Iran talks to get his bike fixed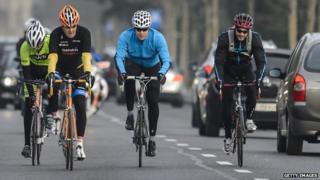 A bike shop in Switzerland was tasked with fixing a VIP's bicycle on Monday.
Lionel Schumann, at Sam's Bike Shop was puzzled when police officers entered asking if he could make a repair for an important person.
In came US Secretary of State John Kerry. He had been enjoying a bike ride when he encountered problems with a derailleur.
Mr Kerry was on a break from talks in Lausanne with an Iranian delegation about the country's nuclear capability.
Mr Schumann told the Swiss newspaper 24 Heures that before Mr Kerry entered the shop, which is located on Lake Geneva about 15 miles from Lausanne, security staff checked the entire building, including the toilet.
He said Mr Kerry was nice and spoke excellent French, but there was little time to chat because the repair was very straightforward. The issue was too minor for a fee to be charged, Mr Schumann said.
John Kerry learned his French at a Swiss boarding school, although he has at times been reluctant to speak the language in front of cameras.
His love of cycling is also well known. From the latest report, it seems he is still riding the same bike he was in 2004, a titanium-framed Serotta Ottrott.
"A very good bike, even though it's from an older generation," Mr Schumann told 24 Heures.